Our team has been involved in a variety of construction projects, working with hotel brands such as Coast, Marriott Hotels, Hyatt, Wyndham, Hilton, and Best Western in both British Columbia and Alberta.
Coast Kamloops Hotel & Conference Centre

Many guests are first attracted to our hotel because of our top-notch facility and location. But what really keeps them coming back is our service and luxuriously comfortable accommodations. We go out of our way to make your stay as enjoyable as it can be—whether that means hints on where to go and what to do, or simply getting just the right scrumptious snack up to your room.
Our modern, spacious rooms will be a welcome respite in your travels, complete with complimentary Wi-Fi, local calls, microwave, mini fridge and more. Plus, you'll be able to unwind in our tropical atrium with an indoor pool, children's wading pool, sauna, hot tub, and fitness facility.
Planning an event? Allow us to help host. We welcome conferences, gala dinners, meetings and gatherings large and small in our versatile 30,000-square-foot conference centre, the largest event space in Kamloops!
For a delicious dining experience, our in-house restaurant Romeo's Kitchen + Spirits features a range of local and international fare. Dine in our restaurant, lounge or seasonal patio, or relax in your guestroom with room service.
The Coast Kamloops Hotel & Conference Centre is ideally situated for your adventures. We're close to world renowned golf courses, hiking and biking trails, winery tours and enjoying sporting events in Canada's Tournament Capital city. If you're looking to hit the slopes, Sun Peaks Resort is less than an hour away. For shopping and entertainment, Cascades Casino and Aberdeen Mall are a short walk from our hotel. Check out our locals guide to see what is refreshingly local in Kamloops.
If it's location you're looking for, ours is tough to beat. Our brand-new Coast Oliver Hotel is located in the heart of the famed Okanagan Wine Country, offering you access to wineries galore as your travel through this spectacular area of British Columbia.
The Coast Oliver Hotel is located in up and coming Oliver right on the river. Be delighted by this friendly town known as the Wine Capital of Canada, where the pace is perfect and you're just steps from parks, local shops, bakeries and restaurants, as well as the Venables Theatre. Coast Oliver Hotel is your perfect jumping off point to enjoy and tour more than 25 wineries or the place to stay and park your car before heading up to Area 27 racetrack. Plus you'll savour local gems like Covert Farms Family Estate where you can pick strawberries and more in the summertime. In the wintertime Baldy Mountain Resort one of the most family-friendly resorts for snow and ski fun and adventure.
Enjoy the refreshing stays Coast Hotels are known for at our hotel. It begins with spacious accommodations with triple-sheeted beds, free in-room high-speed Wi-Fi, flat screen TVs, and in-room Starbucks® for the love of java. Not to mention splashing around in our indoor pool or taking time out for a relaxing soak in the hot tub as we're all about rest and relaxation. We're also pet friendly! And if that special day is approaching, we're the perfect home base to host your wedding party. Just ask us to help you book rooms for your special day.
It's not just our location that will keep you coming back; our warm friendly people go out of their way to make your stay comfortable. They'll be your guides to help you make the most of Oliver and the beautiful Okanagan region.
Coast West Edmonton Hotel & Conference Centre

If it's location you're looking for, ours is tough to beat. The Coast West Edmonton Hotel & Conference Centre is centrally located in the heart of Edmonton's bustling West End. We are conveniently located 5 minutes away from West Edmonton Mall – yes, one of the largest malls in North America – along with must-visits like the Telus World of Science, Old Strathcona, Royal Alberta Museum, Edmonton Art Gallery, and Downtown Edmonton.
Enjoy the refreshing stays Coast Hotels are known for at our full-service hotel. That begins with spacious accommodations and suites with triple-sheeted beds, free in-room high-speed Wi-Fi, flat screen TVs, and in-room Starbucks® for the love of java.
Not to mention splashing around in our saltwater swimming pool, working up a sweat in our exercise facility or enjoying the excitement of our Video Lottery Terminal System in our lounge. We're also pet friendly!
Looking for space for a meeting, event or wedding? We've got over 11,000 square feet of banquet space – perfect for conferences, galas, and more. For business the Coast West Edmonton Hotel & Conference Centre is just minutes from DHL Logistics, National Process Equipment, Walmart® and UMA Engineering. Business classrooms are also available upon request.
It's not just our location that keeps guests coming back; it's our warm, hospitable atmosphere and friendly people who go out of their way to make your stay comfortable. They'll be your guides not only to our property, but also to the many local experiences Edmonton offers.
Coast Lethbridge Hotel & Conference Centre
If you're looking to explore all that Lethbridge has to offer, there's no better place to do it from than the Coast Lethbridge Hotel & Conference Centre. We're within walking distance from the serene four-acre Nikka Yuko Japanese Garden as well as Henderson Lake. In the mood for 18 holes? The Henderson Lake Golf Course is just blocks away too.
We have a range of beautiful, modern guest rooms to suit your needs, all with an in-room mini-fridge and microwave. In-room fireplaces and in-suite jetted tub are also available. Our full-service hotel also features a pool, hot tub, business centre and well-equipped fitness centre. Business travellers looking to connect while on the road? We are pleased to announce the arrival of our upgraded fiber optic WiFi, provided on a complimentary basis to all our guests. This WiFi now means some of the fastest internet speeds available.
After a long day at work or play, take a load off at our Firestone Restaurant & Bar, featuring a wide range of classic Canadian fare. Or perhaps you'd like to try your luck in our game lounge, featuring 21 video lottery terminals.
The Coast Lethbridge Hotel & Conference Centre is the ideal place to host your meeting, event, or wedding. We have ample space for corporate gatherings as well as a 9,000-square-foot ballroom, complete with a gorgeous chandelier. Trust our tireless event pros to ensure yours goes off without a hitch.
Best Western Cedar Park Inn
The West Edmonton Mall, the University of Alberta and the Cross Cancer Institute are all just a short drive away from our spacious newly renovated hotel. Whether guests need easy access to the Government of Alberta or the Edmonton International Airport, this Edmonton hotel has everything necessary for a memorable stay. A convenient South Edmonton location, indoor saltwater pool, free parking and free internet make guests feel right at home. The annual Fringe Festival draws a large crowd. The West Edmonton Mall is a shopper's paradise, and a game of Edmonton Oilers hockey at Rogers Place is the hot spot for family-friendly entertainment.
Fairfield by Marriott Inn & Suites Penticton
The Penticton Fairfield by Marriott hotel is a stunning 4-story, 98 room property. This limited service hotel features an indoor pool, complimentary breakfast, fitness facilities and complimentary parking.
The location in beautiful downtown Penticton is ideally situated close to sports centres, shopping and restaurants. This hotel is a comfortable, well-appointed property for leisure and business travelers as well as sports teams.
Hyatt Place Prince George
In the Summer of 2020, Hyatt Place Prince George opened.
The Hyatt Place Prince George is a 104 room, 5-storey hotel in downtown Prince George and is currently under construction. This property features a complimentary fresh hot breakfast, indoor pool, business centre, lounge and outdoor parking.
DoubleTree by Hilton Kamloops
Discover a pet-friendly, upscale hotel at the heart of downtown Kamloops! We are walking distance to Riverside Park on the Thompson River and a short walk to restaurants, shopping and nightlife. A complimentary cookie welcomes you to the hotel, and perks include a 24-hour fitness center and our seasonal outdoor pool and whirlpool.
More projects coming soon!
Four Points Sheraton Hotel Penticton
This beautiful new hotel with easy access from Highway 97 will provide several different room types including suites with kitchenettes to suit a variety of travellers' needs. This ideal location is surrounded by an array of exciting attractions including Okanagan Lake, channel rafting, casino, event centre, golf shops, restaurants, and more. The Four Points Sheraton Hotel Penticton looks forward to welcoming guests-Fall 2022
Check out the construction process so far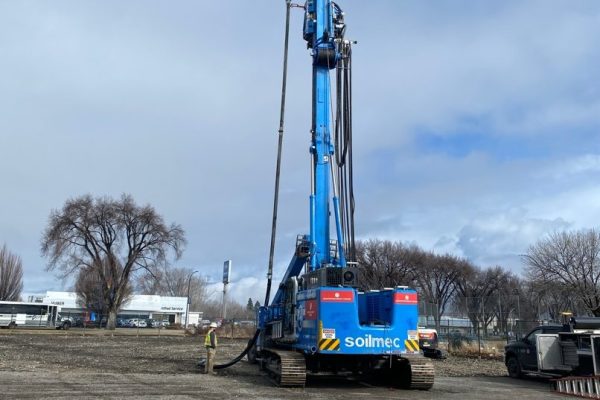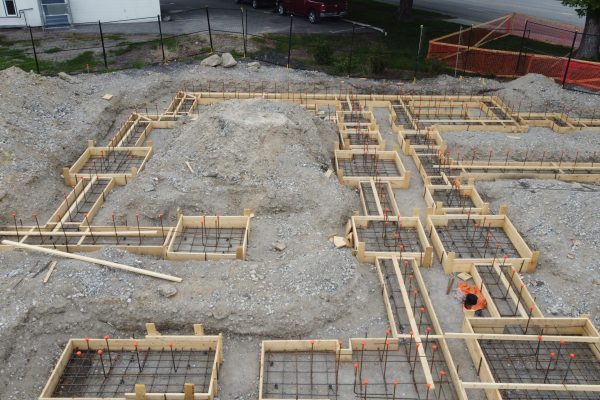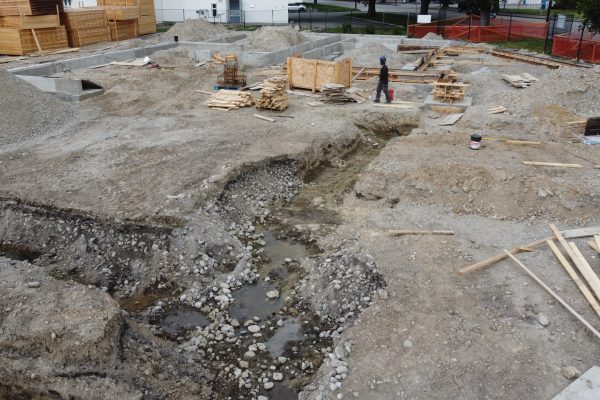 Enjoy the incredible City views at Pacific Pointe, a beautiful new 104-unit building in Kamloops BC. The development has been designed to take advantage of the sweeping views of the valley. The six-storey building will include a variety of floorplans from studios to two-bedroom plus den units, all service by secure underground parking. Clean modern finishes will complement each unit with a calming neutral aesthetic. A unique rooftop amenity space is provided along with generous patios or balconies. Located in the heart of Aberdeen, Pacific Pointe is in close proximity to a wide array of entertainment facilities, restaurants, pubs, shopping, and services. Estimated move-in date: Spring 2023.
Riverview Luxury Apartments, Kamloops
Riverfront living at its best, located along the beautiful South Thompson River with direct beach and water access.  This six-storey building will offer a variety of units styles ranging from one-bedroom plus den to three-bedroom penthouses.  Residents can enjoy either city or river views with easy access to downtown restaurants, shopping, and public transportation.  The prime location along the Rivers Trail provides great recreational opportunities for walking running and cycling, with direct access to Riverside and Pioneer Park. This unique development will include a common riverfront deck and dock.  Estimated move-in date: Summer 2024.
Coming soon
Ideally located at the corner of Victoria Street and 5th Ave in the core of downtown Kamloops, this modern six-storey, mixed-use development will consist of commercial space on the first floor with residential apartments above. There will be something for everyone with a variety of unit types ranging from one-bedroom to three-bedroom plus den penthouses with rooftop decks. Victoria Block is located within walking distance to many attractions including restaurants, boutique shopping, Riverside Park, City Hall, movie theatre, public library, farmers market, and the old train station, making this area the cultural heart of the city and one of the most significant locations in Kamloops. Estimated move-in date: Spring 2024.
Coming soon
Westminster Avenue Fourplexes, Penticton
Contemporary styling and comfortable living. Each unit in this desirable development includes three-bedrooms, three-bathrooms, patio space on the main level, and a private rooftop deck. Located on Westminster Avenue in sunny Penticton BC, Okanagan Lake is only a short walk away. The Penticton Community Centre is located next door and it is easy to access nearby shopping, college, entertainment, parks and public transportation. Estimated move-in date: Spring 2023.
Eckhardt Avenue Apartments, Penticton
Centrally located, this six-storey, mixed-use building will feature commercial space at the ground level with apartments located above. A variety of floor plans are offered including one-bedroom, one-bedroom plus den and two-bedroom units. A wide variety of amenities are within walking distance including shopping, fitness facilities, community centre, events centre, restaurants, casino, golf and parks. Estimated move-in date: Summer 2023.
Coming soon
info@mundiconstruction.ca